Apex Men's Walker X801
These men's high performance athletic diabetic walking shoes by Apex have a great style and unmatched comfort features. The Apex Walker X801 shoes come from the men's Apex Performance line of footwear which combines the latest developments in pedorthics with state-of-the-art shoe design. Wearing styles of the diabetic walking shoes include cross trainers, runners and walkers, and offer a combination of stability, control and cushioning not found in any other line. In addition, every Apex shoe incorporates a unique PRS Insole, allowing you to easily customize the fit and comfort. Apex Performance Footwear provides an equal distribution of pressure throughout the gait cycle while maintaining the highest standards in comfort, breathability, and overall support.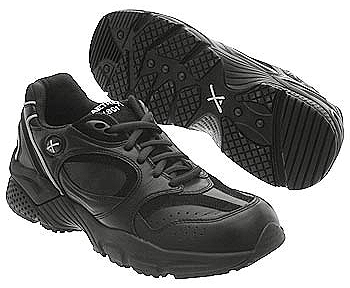 The Apex Lenex Walker collection is made from technologically advanced leathers, polyurethanes and moisture transferring polyesters to keep the foot in a healthy, cool environment. These innovative diabetic athletic shoes come with patented, removable Apex Orthotics and PRS (Pressure Relief System) Insoles for customization for fit and comfort. The Apex Lenex Walker is biomechanically engineered, multi-density midsole features a Carboplast foot bridge for motion control and stability. The highly slip-resistant Apex Lenex Walker outsole provides traction and durability. The unique Apex Lenex is semi-straight, to fit many foot types and provides a high, wide toe box for forefoot comfort and biomechanical efficiency. All Apex Lenex Walker materials are light-weight, soft and provide unmatched comfort.
Apex Men's Walker X801 Features:
Full grain leather upper with nubuck accents and reflective materials
Comfortable mesh lining and extra padded collar and tongue
Patented Anti-Shox orthotic comfort insole
Stabilizing midsole and stabilized heel
Slip resistant, high traction, durable outsole
Apex Men's Walker X801 Specifications:
Materials:
Outsole – Anti-slip rubber
Upper – Leather with mesh tongue
Color:
Black with gray accents
Removable Inserts:
2 inserts - 5/16" of total depth
Sizes:
U.S. Men's Shoe Size – 6.5-13, 14, 15
Width - Medium(C/D), Wide(E/2E), XWide(3E/4E)