Orthofeet Shoes Mens 573 Diabetic Sandals
Orthofeet Shoes 573 Diabetic Sandals
The Orthofeet 573 Diabetic Sandals for Men are designed for comfort during the hot summer months. These Orthofeet shoes feature a breathable leather and mesh upper with ventilated cutouts along the upper to maintain a comfortable interior foot environment. These diabetic sandals are designed for easy adjustments by utilizing an adjustable heel strap and a two-way strap system that allows for easy adjustments on either side of the shoe for a customized fit. The stretchable upper with toggle lacing system ensures a secure fit through the forefoot. The Orthofeet 573 is finished with a cushioning, lightweight outsole designed for stability while propelling the foot forward.
These Diabetic Sandals offer protective comfort with attractive styling. Orthofeet diabetic sandals for men are designed by biomechanical engineers that have been developing innovative foot care products for over 20 years. The Orthofeet 573 Diabetic Sandals feature a soft, seam-free lining designed with extra foam padding for unsurpassed comfort and protection. Each pair of diabetic sandals features a removable orthotic insole designed with an anatomical arch support and deep heel cup that provides customized support and shock absorption. All Orthofeet Shoes feature advanced athletic footwear technology for comfort and protection while providing relief for Plantar Fasciitis and diabetic feet.
*NOTE - It is recommended by the manufacturer to order a 1/2 size up compared to normal Orthofeet shoes.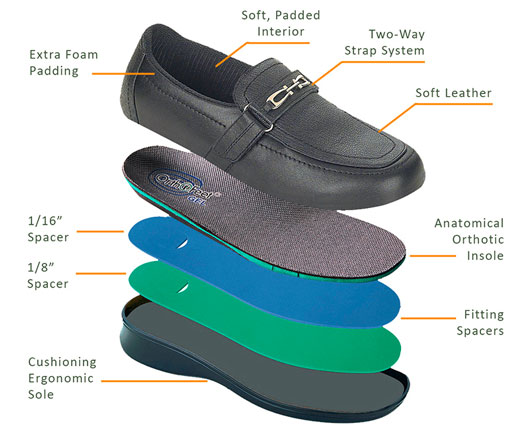 Orthofeet Shoes 573 Diabetic Sandals Features:
Leather and mesh upper stretches at forefoot to enhance the fit
Foam padding reduces rubbing and irritation while easing pressure points
Breathable, seam free protective lining
Constructed on an anatomical last, with extra width across the midfoot and toe box
Quick release lacing system with toggle closure secures the foot
Adjustable hook-and-loop strap at the heel
Two-way strap at the instep can be adjusted on either side of the shoe
Removable, cushioning insole can accommodate custom orthotics
Two removable footbed spacers (1/16" and 1/18") for added and double depth
Cushioning sole, made of light weight polyurethane foam
HCPCS A5550 Coded